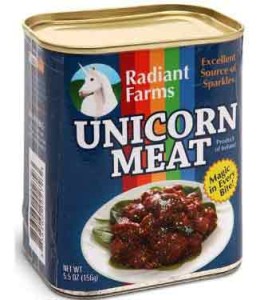 Unicorn Meat? Yodelling Pickle? Zombie Jerky? And more. This is a quick review of the many wondrous products offered to the public through the magic of the internet. Some of these items are must haves while others demand a more discriminating taste.
A can of Unicorn Meat is perfect gift for someone you don't care to ever see again. Or offered up to those undesirables that seem to show up around dinner. Just pull out a can  and they will disappear with the wind, talking of a dinner date at McDonalds. This set of consumables is offered at Amazon and I am a Amazon Associate in the spirit of full disclosure.  Read the discriminating reviews before a purchase. Please hit the photo for a link to more reviews. Or If you wish to help the Protocol use the useful widgets on the left or right columns.
"Halo" says ( June 18, 2011)  "Delicious! Of course this isn't as good as fresh, but who has time to hunt unicorns these days?"
Matt Rauch says; "For many years, I have been on a quest to fart Rainbows. I thought that Unicorn Meat would finally be my answer! After eating the first can, I was so excited when I needed to let one loose. Much to my dismay, no rainbows 🙁 …. So I ate another can, an then another…FINALLY after 5 cans, I farted a glorious rainbow. Obsiously, I'd highly recommend Unicorn Meat.
PS – 10 cans will get you a double rainbow!"
Irma Gerd says; "Do NOT eat too much of this stuff at once. I had the rainbow runs for a week. The entire complex smelled like hopes and dreams."
Yodelling Pickle??? What? Read some partial reviews;
Sadie says "My twelve year-old niece asked for the Justin Bieber CD for Christmas, so I bought her this yodeling pickle. Nobody so far can tell the difference. "
Flam says "Whenever I put it away in the kitchen cupboard it mysteriously appears in the top drawer of my wife's bedside table. "
George Takei says, "On my birthday (4/20), I found this cute little green item on my dresser. I assumed Brad had left it for me as a "special" birthday gift."
Disappointed says "I tried for hours to figure out how to pry off the lid so I could load it properly, but no go. Then the thing started yodeling at me, and I thought, "Well, no more from that dispensary."
Male Bladder Catheterization Model………
John Wood says, "I ordered the bladder catheterization model for a class on bladder catheterizations. The testicles were a nice touch, and I got the job done if you know what I mean. I mean the balls were really, really important to my class. Really important. And high quality. The balls, that is. The balls on the bladder catheterization model."
Denice Bee says, "I was amazed by the ease of insertion of the catheter. All that was missing was screaming from the patient. And those amazing gravity defying balls. I'll never get tired of this! Everyone should have one in their home. Fun for all ages!"
Zombie Jerky Teriyaki
Daddy Dojang says "Read all the reviews below mine and you'll understand why we are about to have an outbreak….Just remember. Remove the head or destroy the brain. Trip the fat guy and run! "
Krista says "For years now I've been forced to purchase zombie meat off a guy in the walmart parking lot.. and making the Jerky is a whole other story,…."
    Uranium Ore
Patrick J. McGovern says, "I purchased this product 4.47 Billion Years ago and when I opened it today, it was half empty."
Andrew (Potomac, MD ) says, "This product is outstanding! I had tried for years to lose about 40 pounds and get back to my ideal weight. I tried diets, exercise, various herbal concoctions, wraps, meth, and amputation. Nothing helped!!! Then, on a whim, I bought a tin of this stuff. I know it wasn't labeled as such but I figured what the heck. I've tried everything else….."
JP says, "Cheap product made in North Korea – I bought this Uranium Ore with the Kim Jong-un Deluxe Edition Missile Kit, but they are both defective."
Twin Papa (Long Beach, CA) says, "I bought this thinking it could help me get back home, well it didn't and now I'm stuck here waiting for lightening to strike!……"
Expectant father says (May 9, 2013), "Not an alternative to a vasectomy!….."
Guardian Angel
A. Christian-Richardson (May 8, 2009) says, "I have no idea about what this thing is suppose to do but it's a wonderful surrogate for my dead hedgehog. RIP Mr. Prickles"
A Trustworthy Human (November 17, 2009) says, "May have Hatched. Don't Know What Came Out. It's in here somewhere. With me……"
PoePhreak  (March 31, 2013) says, "I cannot stress this enough – read, re-read, then re-re-read the instructions! Contrary to it's deceptive shape, dear God this thing is NOT a suppository!"
Maybe Touched Your Genitals Sanitizer
Extremely effective on hands, nothing else….June 23, 2012
1waitingfor says,"We were extremely pleased with the effectiveness with which this product removed ball smell and general funk from our hands……My partner however experienced severe burning sensation in the mouth and throat, left eye and a possibly unrelated rash so the burning was probably karma related."
Nicnac says, "I don't see it listed anywhere in the product description but this product is not only good for when you touch your own naughty parts but also after you have touched someone else's parts! It's like a two-in one thing. Um 5 in one. "
Eviltron
Octo-M "I ordered one of these, thinking that I had finally located my nemesis, EvilTron, after chasing him around the galaxy for eons. Imagine my surprise when UPS showed up at my door, and "EvilTron" was really just a small sound-generating circuit board. There's no way that I'll be ordering their "Octo-Man" now."
3B Scientific W43014 Testicle Self Exam Form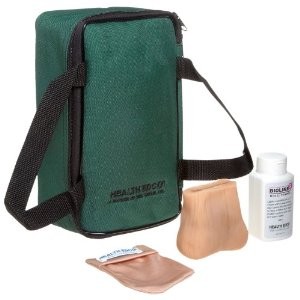 testes testes….1,2,3? January 11, 2006
By Wendy Sherer      "Not only a wonderful teaching model, but while trying to find the tumors, I discovered, it acts as a makeshift stress ball! When I am in line at the grocery store I just whip out this handy little bugger and squeeze away….the line around me just disapears…what an effective little doo dad!"
5.0 out of 5 stars Finally! March 25, 2010
Tony says, "Finally, a rubber scrotum that I can use for exam training purposes. My room mate was going "nuts" (pardon the pun) because I kept trying to use his. I wish he wasn't such a light sleeper. Oh well….."
5.0 out of 5 stars It's A Bag Fulla Fun! April 10, 2008
By Stanley Runk
"I certainly can't find a better way to spend a hundred and sixty five bucks than on a rubber scrotum. Hell, at that price they're practically giving them away! You'd have to be NUTS not to buy one! Now I can take a break from squeezing my own scrotum constantly and give the little bugger a breather. Take the plunge folks, coz you're sure to have a BALL with it!"
                Bitch Fist
By Belladont.
"Highly unsatisfied with this item; was told it would stay in. Guess what: it didn't. After the first initial use it fell out like a hotdog in a hallway."
                                                       Oreo School Time Fun Barbie

By A. Wolf, "This toy is awesome! Let's face it, what little Black girl wouldn't want to be associated with "milk's favorite cookie"(tm)? Just like the sweet, white center of a delicious Oreo, Oreo School Time Fun Barbie delivers Barbie's patented, glazed perfection of body-to-face proportion with a healthy mocha skin tone your African-American child is certain to identify with. And while her complexion may be dark, her creamy center shines through in that little china-doll face Barbie is so famous for! Best of all, the doll comes with an Oreo handbag and other accessories prominently labeled "Oreo"! This girl isn't afraid to show anyone what she's made of. Everyone will know your child's toy is as sweet as an Oreo, and that your little girl is an Oreo too! You get the twist, and the dunk! The only way it could be better is if it came with matching Oreo clothing for your daughter, because let's face it: Oreo clothes are really hard to find in some neighborhoods." 5/5 stars.
Schrodinger's Cat Executive Decision Maker

Strangely decision maker has no reviews and only are 2 left in stock. A secret?
Deer Butt Opener
 Deer Rear with Bottle Opener
George Takei (TOP 1000 REVIEWER) says.
"Deer friends: Looking for the perfect "hunting lodge" accessory? No ifs, ands or butts, this is a staggering find. As any John Doe could tell you, mount this baby on your wall and BAMBI! Instant party. Now when guests ask me to open their beers, I just say "Go buck yourself."
 3ct Diamond Pacifier (278 Pave Set Diamonds)
Best $17,000 I ever spent!!!!, June 6, 2013  blamb! says, "My son's birthday was coming up and I just couldn't think of what to buy him. I already bought him a pony and a diamond encrusted wrist watch and well, I just didn't know what else to buy him! I was beginning to panic until I came across this pacifier….."
It served its purpose.. May 14, 2011 Rusty Shacklford says, "I bought this pacifier a few weeks ago for our son. We looked at walmart and target and just could not find one that really caught our eyes. This one did the trick, as soon as he starts crying we load up the car and head to our security box at the local bank to get it…."
Great deal–have your butler run out and get one of these immediately July 28, 2012    M. Goff says, "My wife and I spent months looking for the right pacifier for our baby. We knew we needed something that would distinguish him from the proletariat scum we used to see at his daycare (like any responsible parents, we've since removed him from the daycare and are rearing him in his private cottage with the help of our French au pair)….."
UFO DETECTOR
George Takei (This guy gets around) says, "I purchased this gizmo to play a prank on my husband Brad, who still prattles on about his "fourth-kind" encounter when he was just thirteen. (The 4th kind involves a probe, if you're wondering. I keep saying it was likely his redneck neighbor dressed as ET, but that possibility is too dreadful for him to truly accept.)……."
A Godsend!, June 3, 2013 Mark Swanson says,  "I can't begin to tell you how many times this UFO detector has saved my ass! I used to wake up in the morning feeling funky and disoriented, sore all over my body, with strange memories of bondage and penetration. Now I….."
Obama (don't) Care!, May 30, 2013 PMSteve says,  "When my UFO-02 detector arrived I was so excited! I couldn't wait to see who in my neighborhood was an alien. I suspected that the guys working at the neighbor's house putting in a new deck were aliens but it turns out that they were just illegals. Anyway, after several weeks I finally got a hit! I was watching the MSNBC News and whenever our President came on the air, the detector would go off and within 30 seconds I would pass out. I would awake several hours later with an extremely painful (and somewhat bloody) butt!….."
There it is. We continue our consumer updates when we can. Remember, Caveat Emptor (Let the buyer beware)