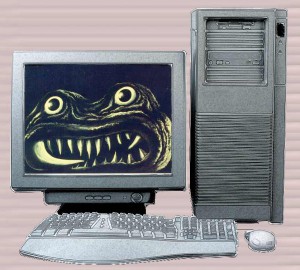 According to a study conducted in China, an "addiction" to the Internet can lead to structural damage of your brain. In fact as you read this blog, you are destroying millions of brain cells in a kind of cellular interneticide.
The researchers studied 17 teenagers with Internet Addiction Disorder or IAD and found that each had "structural and functional interference in the part of the brain that regulates organization, judgement, desire, TV viewing, emo music choices, possibly causing cognitive impairment similar to that caused by gambling, alcoholism, sexual petting, watching Star Search or the Republican Presidential Primary debates."
During the course of the study, researchers took MRI scans of the subjects that could still sit up straight (spinal sagging and vertebrae disintegration appears to be a significant side effect) and measured the organization of the brain via white matter. Dark, grey and plaid matter appear unaffected. The method, fractional anisotropy (FA), was shown to be lower in teens with IAD than the lab rats they usually test. What this reveals is a tendancy toward vampirism, which partially explains the popularity of the "Twilight" series of books and movies among teens. Also lab rats appear brighter than the average teenager.
Reads the report: "Overall, our findings indicate that Internet Addiction Disorder (IAD) has abnormal white matter integrity in brain regions involved in emotional generation (undue screaming at inanimate objects; stuffed animals, parents, sex toys) and physical processing (inability to tie shoelaces), weak executive attention (zoning out), decision making (pepperoni or sausage?), cognitive control (reckless tweeting and facebook friending) and a bunch of other cool stuff.
Many displayed heavy drooling, abnormal methane gas production and excessive masturbation. Also notable was a foul grey fluid leaking from the ears and the ritual littering of partially eaten pizza crusts around the computer work station. In general, many disgusting physical reactions were observed.
The results also suggest that IAD may share psychological and neural mechanisms with other types of substance addiction and impulse control disorders including "adult toilet training, ingestion of psychotropic mushrooms and precognitve parental nagging ."
Internet addiction is expected to be added to the American Psychiatric Association's Diagnostic and Statistical Manual of Mental Disorders (DSM) in 2013 and a fair number of silly internet blogs and the already known brain damaging comic books.