Once again the Presidential race is upon us and both parties nominating conventions are over. Once again the hopeful politicians and non-politicians that lined up to become the Republican Party nominee have fallen off the face of the planet. Is it an episode of Twilight Zone? A 48 Hour Mystery? There were so many. So many tried to catch the Tea Party Wave. So many who wanted to run against a shaky Democratic President of a country in economic turmoil. So many that for a time most of us were having trouble keeping track of them. Changes to the line up added to the confusion. With each debate, each performance, each revelation of their past, they would explode with possibility and as quickly fade into obscurity.
Gov. Pawlenti, an early front runner, dropped out after coming in third in the Iowa straw poll. Texas Gov. Perry threw his hat in after the same straw poll and become the front runner – for about two weeks.  Bachmann won the straw poll, but did poorly  in the later Iowa primary caucus and dropped out.   Strange that a few thousand Republican voters at a country fair in Iowa can change the course of a national election.
Herman Cain couldn't keep the pants on his basal ganglia (reptilian brain) and his hot ticket status disappeared after his amorous exploits were revealed and revealed and revealed. The taste of his new status as a possible nominee still in his mouth, Cain dropped out of the race, his wife standing stoic by his side, giving up that First Lady dream.  Newt Gingrich seem to self-destruct just as the race got started. He rose and fell a couple more times before he came and went. It was almost Shakespearean. Ron Paul held on the longest despite the dismissive attitude of the national media  to the grumpy doctor from Texas. They didn't want him to exist so he didn't. Jon Huntsman flailed his arms in a desperate "What about me?" campaign. He patiently waited for his turn at the limelight. It never came. Gary Johnson, former Governor of New Mexico, was excluded from the debates and left for the greener pastures of the Libertarian Party. Toward the end mild-mannered, sweater vested Rick Santorum become the chosen one. He was the last chance of the Anti-Romney. It was too little too late.
Except for Gingrich, it was like those who came close to grabbing the ring were blinded by the glare of  sudden success.  They weren't prepared for this super attention, never expecting to get that far, that fast. And many more in the wings never got the chance at the limelight. Those hopefuls were not allowed in the formal debates. They had little access to the national media and let's face it the national media wasn't interested. How the heck do we remember them? The big shooters, the also ran, the obscure, the many we never got the chance to examine or destroy. To love…or hate. Graphic designer, Art Conman, has come up with a fun new visual strategy to help all of us remember them during the upcoming Republican convention. Here is a pictorial map of the candidates who announced their intention of running for the Republican nomination for President of this here United States of America.  Art has included a easy visual reference map.  Instructions and examples of how to use this graphic map along with thumbnail bios of each candidate. In the spirit of democracy they'll be listed in alphabetical order with no delegate favoritism.
Alphabetical List of former Republican Presidential Nomination Hopefuls
Michele Bachmann
– Michelle Bachmann, the three term Republican Congresswoman from Minnesota, is the chair of the Congressional Tea Party Caucus. A former tax lawyer (worked for the IRS), who started off her political life as a Democrat before switching to the Republican platform in her final year at Winona State University. She was an early favorite and considered a front runner. By the Iowa caucus her popularity had dropped like a rock. Don't know why and no one seems interested enough to analyze it. Michele left the Republican race for the Presidential nomination as the money ran out.
Herman Cain
– Businessman, Politician & Media spokesman, cancer survivor, YouTube sensation and former mathematician with the US Navy, Herman Cain has an impressive resume. He has work experience in corporate, government and media arenas. A stellar career at Pillsbury, the Federal Reserve Bank of Kansas City (as chairman) and as the host of WSB' "The Herman Cain Show" in Atlanta, the articulate Republican is no novice. After weeks of  front-runner status, the revelations, many revelations of his "womanizing" could not be discounted. He finally let go of his presidential aspirations and dropped out. Perhaps he dreams of a "good" book deal now.
Newt Gingrich
– Former Speaker of the House and Georgia congressman Newton Leroy Gingrich began his campaign under a torrent of criticisms following his controversial statements on Medicare and an attack on fellow Republican Paul Ryan's economic plan. Nevertheless, Gingrich, a consummate and savvy politician, oddly chose to go on vacation with his wife during the controversy. Amid rumors of extravagant spending on their trip, Gingrich's campaign manager and much of his crew resigned. He came back from this "snag" and became a real contender for a few primaries. After winning his home state, Georgia, it was a downward slide. The love/hate affair with this dynamic personality ended. Mr. Idea was not to be his parties nominee.
Jon Greenspon
– Former Marine
The 47-year old ex-Marine is grounded his platform on the Charters of Freedom. Professing himself to be a Jeffersonian/Reagan Republican, the California-born Montanan makes no apologies for his blunt approach. The fiscal and social conservative believes that the political elite in Washington have forsaken the original vision of our Founding Fathers and along with it, the American people. He pledges to return America to it's original core values. What more can you ask?
Jon Huntsman
– Former Governor of Utah and Ambassador to China
The 51-year old former Governor of Utah, a well liked and charismatic Republican technocrat, was considered by many in Washington as a dangerous dark horse and one of the few capable of unseating President Obama. The fact that he was a reasonable and intelligent man appeared to be a major weakness and my have led to his poor showing. He never got close. Never won a primary. Never threatened anyone. What do they say about nice guys?
Gary Johnson – Former Governor of New Mexico
The former Governor does not attend church, is pro-choice, anti-big government, pro-immigration, an outspoken critic of the war on drugs and favors legalizing marijuana. He led New Mexico for eight years, during which time the state saw no tax increase. He vetoed over 750 separate pieces of legislation to keep the state government from growing. However, his Libertarian views on civil liberties, foreign policy and drugs may be difficult for many social conservatives. Which seems to be the case. Johnson left the Republican race for the Presidential nomination causing quite a storm of speculation. Just kidding. No one seemed to care and considering he was a successful two term Republican Governor you might have thought he would have gotten more respect. At least more than election losing Rick Santorum. Alas, the powers that be never took him seriously and off he has gone to be a Libertarian Presidential candidate.

Fred Karger – Political Consultant & Gay Rights Activist
Fred Karger, one of the shrewdest Republican political operators of the past three decades, announced the formation of his 2012 Exploratory Committee on July 18, 2010, making him the first ever openly gay aspirant for the presidency. Despite being a lifelong Republican, the 61-year old Karger may be running on an independent ticket. He was locked out of a Carolina Republican Party Presidential Debate, with the organizers citing his low poll numbers as the reason. But of course.
Andy Martin – Internet Gadfly
The self-professed Peoples Attorney General and internet guru is famously remembered as the source of the chain mail and online reports questioning the citizenship of President Obama and the claim that he was a Muslim. The 66-year old Martin was quoted saying, "Obama plays for keeps. He plays rough, and that's the only way to beat him, and I'm the only one that is tough enough to do that." Well, I guess that message just didn't catch fire.
Thad McCotter – U.S. Representative from Michigan
The lead guitarist for the New Flying Squirrels is a five-term Representative for Michigan's 11th District. He announced his intent to seek the nomination during the WAAM Freedom Festival at Whitmore Lake, where he performed with his band. McCotter is a member of both the moderate Republican Main Street Partnership and the conservative Republican Study Committee. Perhaps the primary voters were not music lovers?
Jimmy McMillan – Political Candidate – Martial Artist – Veteran
A former mayoral, gubernatorial and senatorial candidate for the 'Rent Is Too Damn High Party' announced his candidacy for the Republican presidential nomination. Explaining his decision not to contest the Democratic nomination, a party he was formerly registered with, karate expert McMillan was quoted as saying "the rent is too damn high." The flamboyant Vietnam veteran also gave some words of advice to President Obama, "If you don't do your job right, I am coming at you!"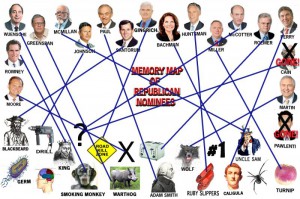 Tom Miller – Career Flight Attendant
Tom Miller feels that the country is being destroyed from within through failed fiscal and immigration policies of an entrenched political elite. Miller sees himself as a representative of the people, as envisioned by the Founding Fathers. He offers a solution-based approach to tackle the multitude of issues facing the nation. Ultimately, he hopes to re-empower the American people around the concept of small government. A noble, thoughtful, intelligent plan. How the hell could he win with that?
Roy Moore – Former Chief Justice of the Alabama Supreme Court
In 2003, this West Point graduate went against the ruling of the Sixth Circuit Court of Appeals by refusing to take down a display of the Ten Commandments and a monument from the Alabama Supreme Court building, a decision that ultimately cost him his job as the state's chief justice. He is a social and fiscal conservative if you hadn't guessed. And a dime a dozen this election cycle.
Ron Paul – U.S. Representative from the state of Texas
The former medical doctor and 75-year old Texas Congressman will once again center his campaign on the theme of liberty, human rights and financial market reforms. With his small but vocal pockets of supporters spread all over the country, the Libertarian leaning Republican is not in the mold of most of those on the campaign trail. He actually believes what he says. Many political pundits are surprised at the sway he still has with grassroots conservatives. No chance integrity has anything to do with that.
Tim Pawlenty – Former Governor of Minnesota
Timothy James Pawlenty, the former two-term governor of Minnesota, is renowned for his ability to connect with the masses. His middle-class background lends him an earthy appeal to the average Joe. His time in Minnesota was typified by his focus on grassroots issues that affected the middle-class. However, he announced his withdrawal from the presidential nomination race following a disappointing third-place finish in the Iowa Straw Poll, a state he has unofficially campaigned in for the past year. The writing was on the wall. No moderates need apply.
Rick Perry – Governor of Texas
The Texas Governor took advantage of the publicity generated by the Iowa Straw Poll and announced his entry into the Republican presidential primary race with a confident declaration, "I full well believe I'm going to win". His candidacy injected some excitement into the contest – for about two weeks. His popularity dimmed when conservatives attacked quasi- liberal  state legislation he had supported, his views on immigration and his own off the cuff remarks. The media ripped him apart for every goofy debate mistake. Not everyone can remember everything, darn it!  He was not ready for prime time is what most saw.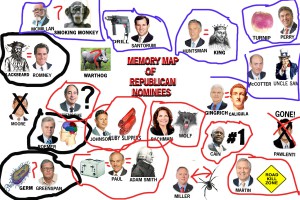 Buddy Roemer – Former Governor and congressman of Louisiana
After being away from politics for the last two decades, former Louisiana Governor Buddy Roemer announced the launch of his presidential exploratory committee. The 67-year old former Democrat has cited campaign finance reform as one of the bulwarks of his platform and has imposed a $100 limit on disclosed contributions per individual for his run. At a Tea Party rally in May, he claimed that the current system was "disastrous, it's dysfunctional." Big words did not deliver big support. He was never taken seriously.
Mitt Romney – Former Governor of Massachusetts, Executive at Bain Capital
Right from the moment John McCain lost the 2008 election to Barrack Obama, The 2nd place Romney was destined to be a favorite for the Republican 2012 presidential nomination. The Harvard man lead many polls until Rick Perry entered the contest. Gingrich and Santorum gave him a few scares. The moderate Republican turned conservative appears to have held on, fighting off all comers. Many think he can beat Obama. He certainly is the most credible of  the lot he's been running against. And most likely he'd be a reasonable president. His ideology (neuvo conservative) and personal religious beliefs (Mormon) are still subject to debate. Many core conservatives and evangelical Christians are not swayed by his transformation from a wild eyed moderate. His knack for business is rarely questioned and should be a plus. Being a vulture capitalist preying on weak and dying companies with Bain Capital may not be the most savory of pre-politician careers though. We enjoyed the financier, Gordon Gecko, in the '80's movie,  Wall Street, but few would vote for him to be President.
Rick Santorum – Former US Senator from Pennsylvania
The former two-term senator from Pennsylvania symbolically announced his entry into the GOP Presidential nomination race at the Somerset County Courthouse, not far from the coal mine where his Italian grandfather worked. He became the new favorite of social conservatives and evangelical Christians. Is a conservative Roman Catholic more acceptable than an LDS Mormon? Perhaps. Santorum was confident and warned, "We are going to be in this race and we're in it to win." He got close, but not close enough.
Vern Wuensche – Businessman
Wuensche ran for President in 2008, garnering a tenth place finish in both the Iowa and New Hampshire primaries, despite spending only $36,000. In 100 days, the owner of Houston's third oldest construction company, visited over 6,000 local businesses and churches in 242 towns in both states. He believes that businesses thrive chiefly through the caliber of those who run them. Executives are perfectly qualified for a public office with proven management experience. I wonder what he spent on this election.